Lume Cube 2.0 Review
The original Lume Cube has been around for a number of years now and is a firm favourite with many creatives.  It's a super small, versatile LED light that can be used as a constant light for videography and stills photography. It can also be controlled via a free mobile phone app and synced to be used as an off camera flash for mobile phone photography.
As with all good things, the time has come for a re-vamp so read-on for our Lume Cube 2.0 review!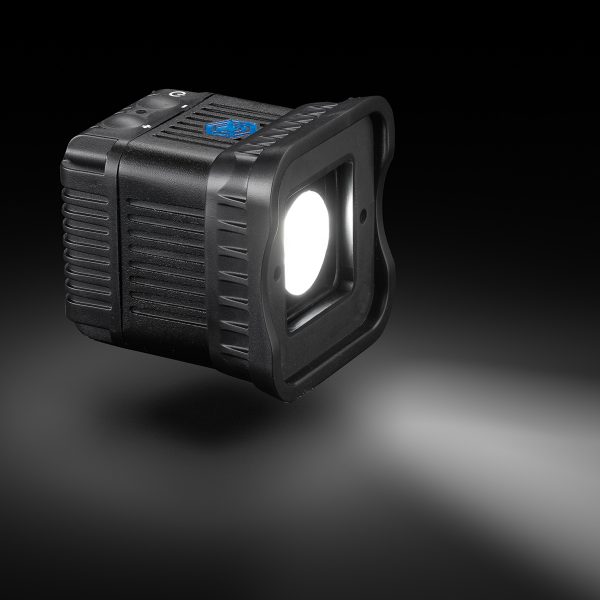 What's in the box:
Inlcuded in the box with the single Lume Cube 2.0 is:
1 Lume Cube 2.0
1 Modification frame for mounting gels & diffusers
1 Magnetic Softening diffuser
1 Magnetic warming gel
1 DSLR camera mount
1 USB-C cable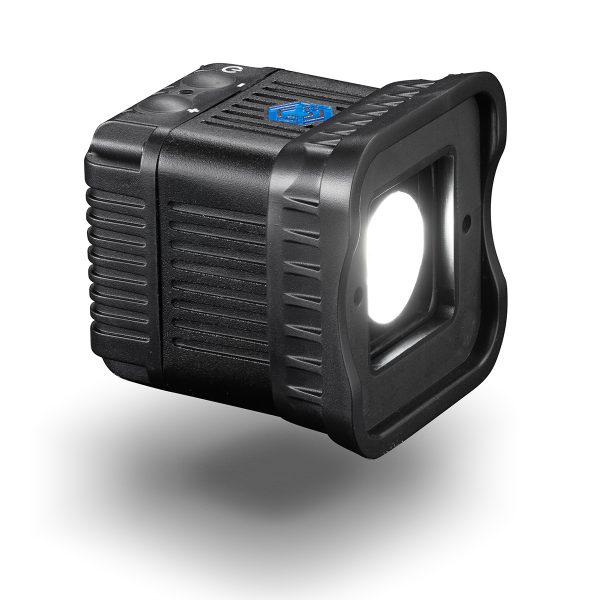 Technical Spec:
A single 1500 Lumens LED with a 5600K colour temperature. There are two buttons on the top of the Lume Cube, and you can dim the light from off to full power, with 10 steps. Simply press the button to change the power output. The cube is 1.5inches in size and portable with a built-in rechargeable lithium-ion battery.
The compact size and tripod socket means you can mount the light on any nightstand or tripods well as using in on a camera hot-shoe adaptor. There's also included magnetic diffuser and yellow gel to mimic sunlight.
Key Features
1500 Lumens LED – controllable between  between 1-100% power

 

80 degree beam angle
5600K light temperature
Waterproof to 30 ft (10m)
Optical sensor for slave flash
Bluetooth connectivity to mobile device Lume-X app (iPhone & Android)
Charged via USB-C
1/4″ Tripod socket
Free app for both iPhone and Android that allows remote control of the brightness and strobe functions 
Lume Cube 2 review
Initial impressions & Build Quality:
From the first time that you get your hands on this diminutive light you know it's seriously well made. It has a very solid feel in the hand and there's definitely nothing flimsy about this unit. You just know that it's going to be able to take a serious amount of abuse.
 This is definitely not a cheap Chinese copy of anything and you can feel that a great deal of thought has been put into the design and the manufacture of this little 
power-house.
The body is from machined aluminium and there is a real feeling of solidity and robustness to the unit.  There are suitably deep, grooved areas on each of the sides. These extend around all of the corners and are also present on the rear edge of the front bezel. There is a clear lens in front of the LED lamp that offer great protection whilst the robust plastic bezel controls the spread of light to 80 degrees.  These features make for extra positive handling of the light and give a real feeling of robustness.  It's the small touches like the added grips all around the body that prove there has been a great deal of thought during the design process.  
There are two switches mounted on the top surface and both are solid to the touch. They are raised from the body which makes them very easy to locate, even in the dark and the have a very positive switching action. The optical slave is flush-mounted to the surface of the unit in-between the 2 control buttons, this also doubles as an indicator for charging and bluetooth connection indication.
On the rear on the light is a rubber cover that provides access to the micro-USB connector which is used to charge the Lume Cube 2.0.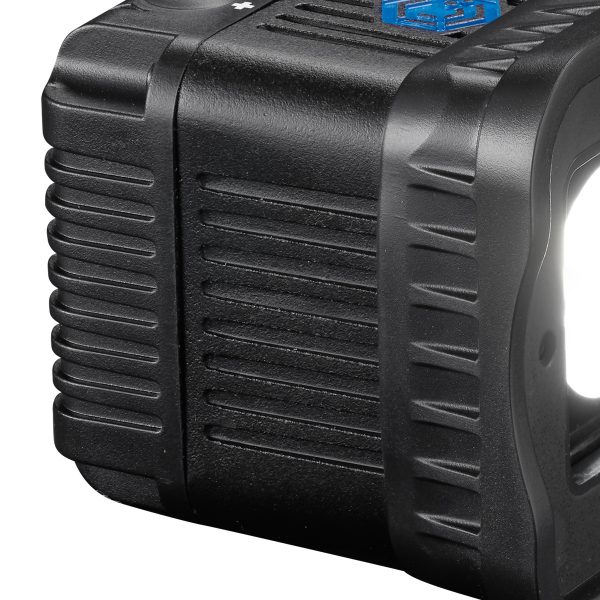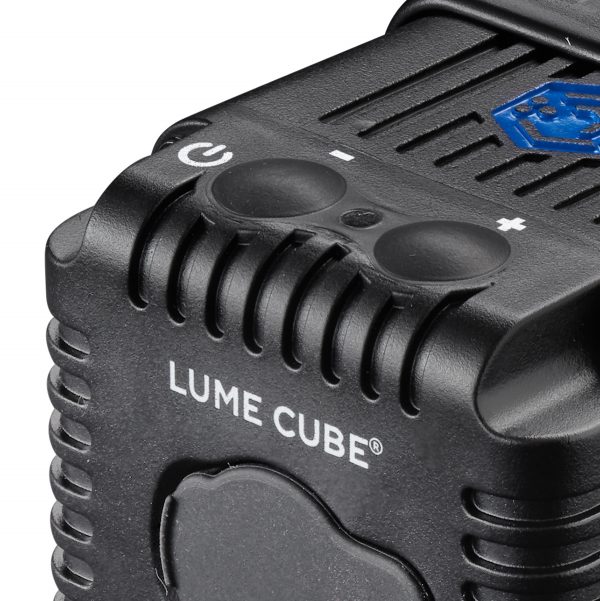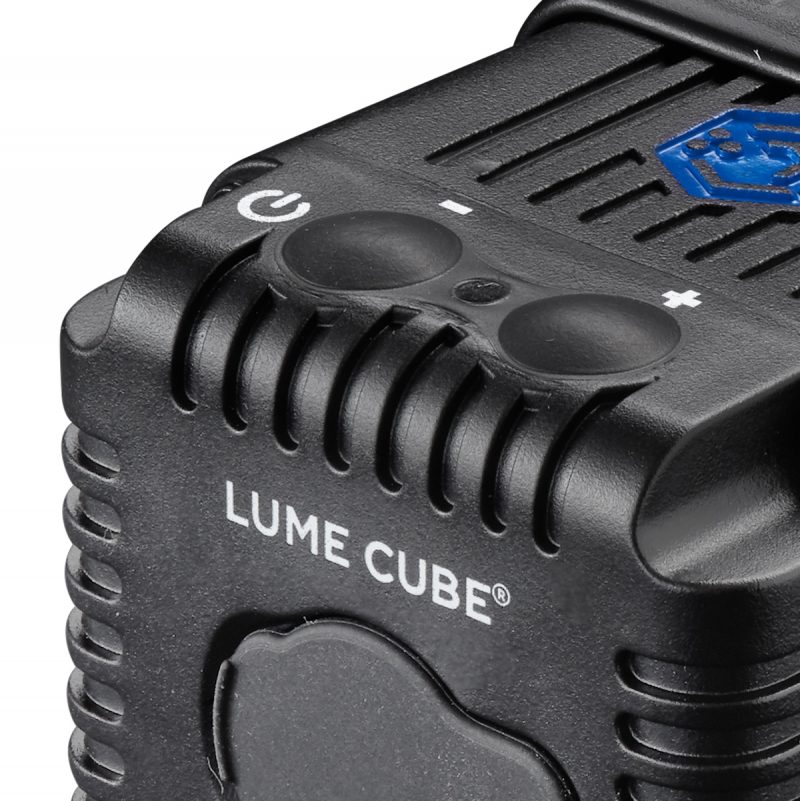 In Use:
Optical slave:
As product and advertising photographers, we usually use multiple lights in a scene.  These are nearly always used in conjunction with diffusers, soft boxes and grids which allow us to shape the light.  One of the complaints that we'd seen previously about the Lume Cube was that, as a small light source, it always creates harsh shadows.  However, we found that, with a little lateral thinking, the Lume Cube 2.0 is absolutely perfect for using in locations on the set that we would not have room for a traditional strobe.  
The optical slave is built into the top surface of the light and is super reliable in operation. We've not have one misfire yet which is always a huge positive to us. This new way of thinking along with the small size of this unit mean that we have been able to even position the light inside of objects shown in this example.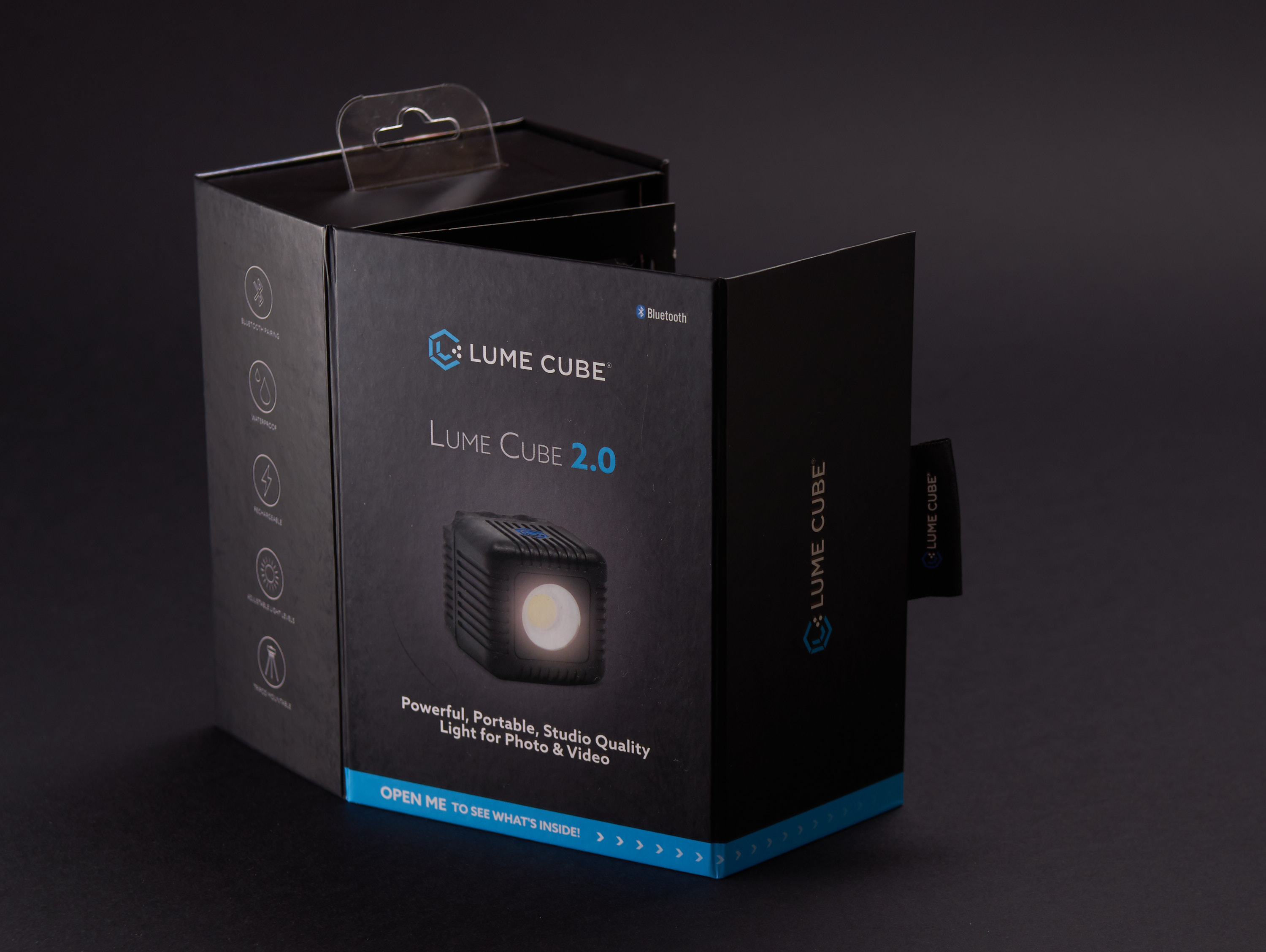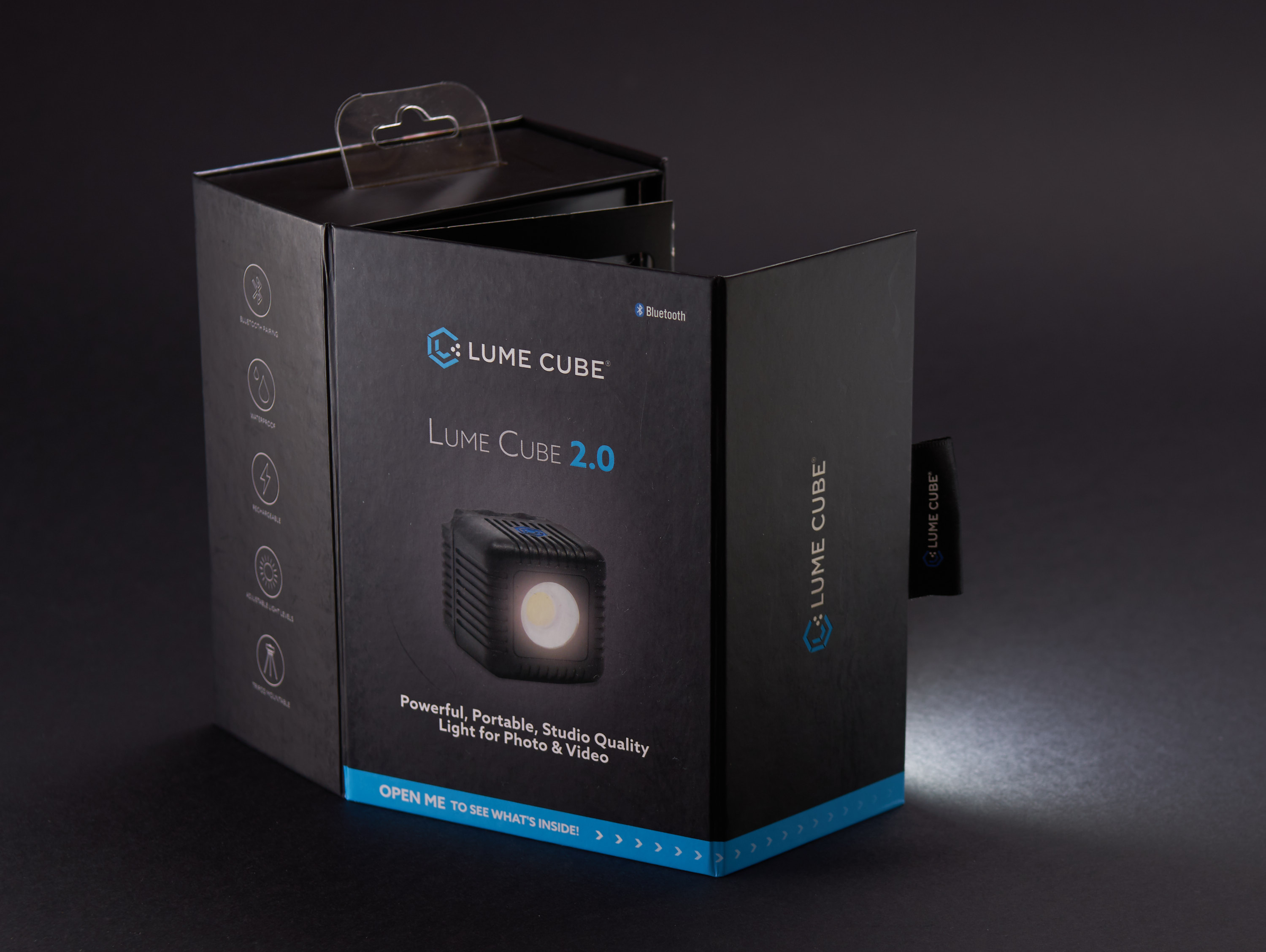 One issue that we did come across whilst using this method of shooting products with the Lume Cube 2, is that the slave does not appear to operate at shutter speeds above 1/50 second. When using strobes, we generally shoot at 1/200 second to ensure that there is minimal ambient light getting into the shot and that all the light in the image is provided from solely the strobes. We'll be getting in touch with Lume Cube about this to see if this is by design, or if it's just the unit that we have.  One other thing to note was that we had to use a wider than normal aperture to get sufficient light to register in the image.  This is not great problem to us as we usually take numerous frames and focus stack the final image to ensure that we have front-to-back sharpness in the final image.
There are also a huge number of applications where you can take advantage of the unique qualities of these lights. For example, when shooting outdoors ay night, they could be placed behind objects, in the foliage, in trees etc to add get swathes of extra light to add interest and drama to the background of flash lit images. I think that these mould be of great use to wedding photographers as they are easy to carry around, robust, waterproof and don't require extra batteries.
Off camera flash mobile:
One of the other amazing features of this light is that it can be used as an off camera flash for mobile phone photography. This is a real game-changer if you're into mobile photography.  Using the free Lume-X app, you can control the power of any number of Lume Cubes that you have connected. You can adjust their power input from the app as well as changing the mode of each light to be constant, flash or strobe.
Video Light: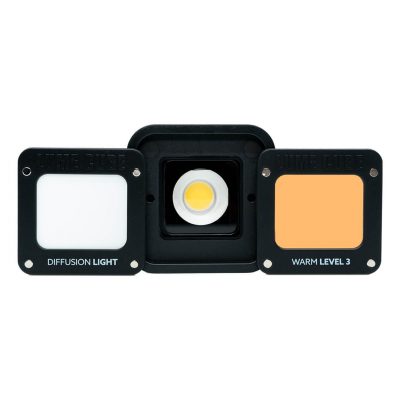 The Lume Cube comes into it's own here as a versatile and flexible light that can be placed in many locations that a larger light would simply not fit. The down side to this is that the light has to be realties close to the subject, particularly when the ambient light levels are relatively high. However, there is a huge amount of creative freedom that can be gained by just having a couple of these placed in the background of a scene.
LED lights traditionally have a very blue look and even though this light is in the hugely useful daylight balanced range around 5600K, there is also a magnetic warming gel provided with this light.
Battery Life:
From a full charge we have been getting over 5 hours 'use' from a single charge. However, it should be noted that a lot of this time we were using the light in optical slave mode and not in a continuous mode.  The specification says that you can expect around 2 hours30 minutes constant use at 50% power this seems like a very realistic, if slightly pessimistic, claim from our experience.
Lume Cube 2 review – Conclusions
So, as this is the first part of a review that most people read let's get straight to the answer!
Given the size and relatively high power of this light we would definitely recommend this light as it can add a huge amount of creativity and flexibility to your photography and videography. It is beautifully well built and extremely tough as well as being small enough to drop into your pocket or camera bag.
There are some limitations to its use especially if you're already using high powered lights. However, it would be madness to assume that something so small could replace a large light!
The longer we've had this light the more uses we've found for it! Not only is it a great light for photography and videography; it's also a great light for use as a torch when outside in the dark, or finding stuff you dropped under a desk in the studio!  It is this flexibility that it particularly appealing coupled with the amazing build quality and simple operation.
If you're as impressed as we are, you can head over to the Lume Cube website to get your hands on one as well as see the large range of accessories that are also available.
Statement of impartiality:
The Lume Cube 2 that was the subject of this review was provided to us by Lume Cube for the purpose of review. We were not asked to give only positive statements and all of the opinions in this article are solely our own and have been in no way influenced by Lume Cube or any of its employees or associates.