In this digital age, there's definitely a resurgence in demand for printed photography products. In response to this demand there is an ever increasing number of high quality manufacturers for the discerning buyer to choose from who are offering quality portfolio products.
Background
Recently, I wanted to update my printed photography portfolio and began looking through the many options that are currently available. After a lot of research, I drew up with a short-list of possible options and compared them against each other. The basic criteria that were used in selecting the photo book for this review were relatively simple; I wanted a photo book with a high quality look & feel to it that reinforced my branding message. The portfolio had to reflect the quality of my images and evoke this feeling when both being handled and being viewed.
After comparing the options I decided that the product that was best suited to my needs was the Saal Digital photo book. This product offered the level of features that I was looking for whilst also offering great value for money.
The Right Photo Book for you?
A quick look around the Saal Digital website reveals that there are a good number of options to choose from before starting to actually design your photo book.
Covers:
You can choose between a printed or leatherette cover & even these two options have more than one version! The leathertte cover is available in four different colours and can also feature highlighted, personalized text. The printed covers can be either glossy with rich deep colours or matte which greatly reduces reflections.
However, the choices don't stop there!… There is also the option to choose between a standard hardback cover and a beautifully luxurious padded cover which adds a real tactile element to the product.
Spreads:
All spreads feature high quality Fujicolor Crystal Archive Album photographic paper which again is available in both glossy and matte formats. The glossy paper is ideal for bright, vibrant colourful images whereas the matte paper has a more elegant look and doesn't show fingerprints which should help the photo book remain in great condition even after months of handling.
Also, you can choose between standard thickness pages where each page is bonded back-to-back with the next page giving an overall page thickness of 0.34mm. Or you can opt for the XL pages which are a whopping 1.08mm thick and printed on 600g/sqm paper. My business cards are printed on 600g/sqm paper so I chose this option to tie-in with my branding.
After reviewing all of the above options, I decided to order the following specification for my portfolio and the subject of this photo book review:
280x190mm photo book (landscape format)
Padded, gloss cover
XL thick pages (600g/sm)
Matt pages
Arathacite Presentation box
Photo book design:
Sale Digital allow flexibility in designing the photo books you are not tied to using only one piece of software. Even though there are alternatives available, I opted to use the free Saal Design Software to created the photo book for this review. This was mainly due to my lack of experience of using any other software and the ease of use of the ordering system that is integrated with their own software.
If you wish to use another software package to create your photo book you can use any package that can output in pdf format such as InDesign, Photoshop, QuarkXPress.
Saal Design software
The Saal Design Software is very easy to use and features drag & drop layout creation that is very similar to many other photo book design packages. There is no need to upload images during the design process as they are all located locally on your computer making it very easy to swap and change images to test and assess different layout options. The full size images are uploaded after all the design work is completed as part of the ordering process.
There is a large selection of ready-made templates that you can either use directly or modify if you wish. To aid accurate positioning of the images and features on a spread there is both a ruler and cursor co-ordinates displayed and also a grid to which items & images can be snapped. Once the basic layout of the images is complete there is a large selection of image borders and background colours and textures that can be added as well as drop shadows under the images. In simple terms, there are many more features available than you should ever need to use, and if you want to use more then you will probably be using a more specialised piece of software than this to design you book!
I was looking for to create a minimal, monochrome, crisp & clean look for my photo book to match, and reinforce, the look of my website and my brand. Using the Saal Design software, this was a fast and intuitive process which caused very few problems for me.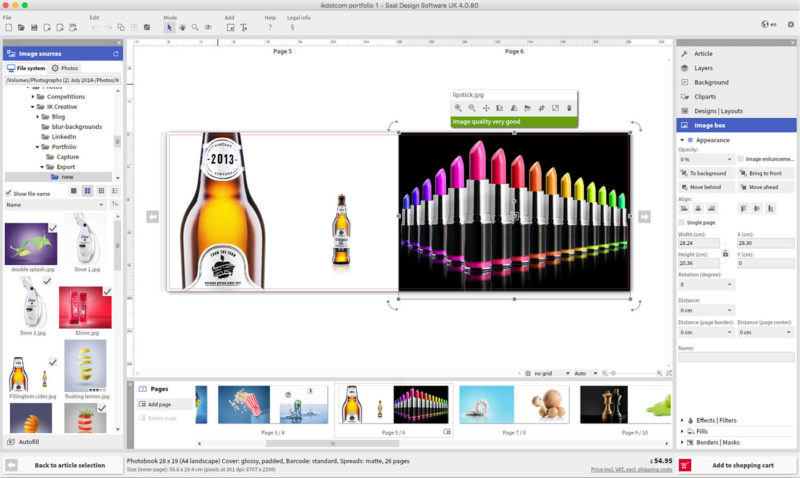 Once the design is completed you progress to ordering your photo book from right within the Saal Design application. For me, this made the whole creation and ordering process extremely smooth and simple. The process is as simple and as painless as any modern online ordering system and once your delivery and payment details are entered the images are uploaded to the Saal server. Once the order was placed there are regular email updates at each of the important stages of the process:
Confirmation of order
Payment details & delivery of invoice
Despatch for shipping
Online order and payment. Emails to inform of state of production / delivery. Slick service.
Presentation Box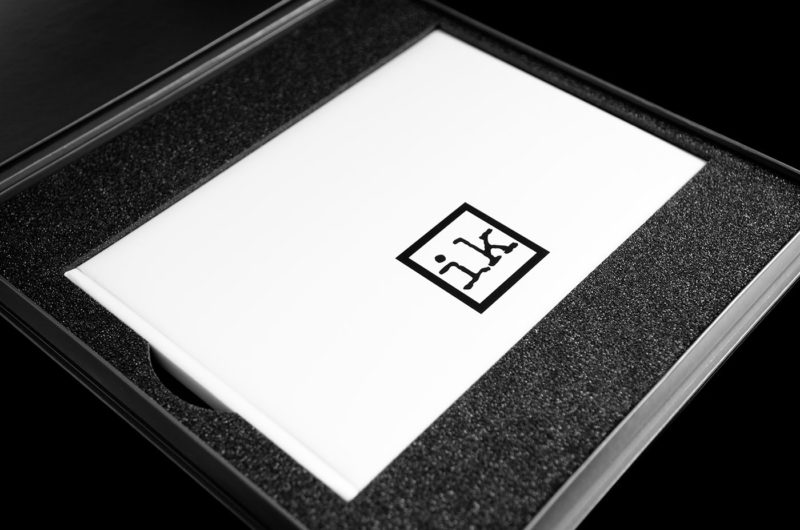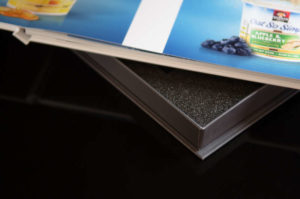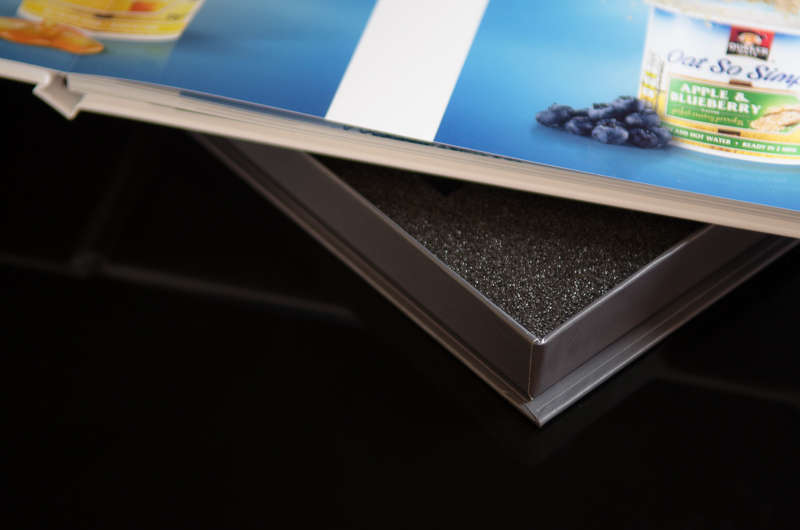 The Presentation Box purchased for this photo book review gave a very good initial impression. There is a very solid and high quality feel to the box and the little touches such as the magnetic catch that prevents it falling open reinforce the quality feel. It features an accurately cut foam insert that holds the photo book snugly in place and also offers excellent protection. If you handed your portfolio over to a client in this presentation box they would instantly be given a real impression that you care for the quality and presentation of your work. As well as looking good, the presentation box offers excellent protection to your precious portfolio.
Photo book review:
The first thing that stands out when lifting the photo book from the presentation box is the luxurious, thick and glossy cover. The padded option adds to the feeling of quality which reinforces the up-market feel. Opening the front cover reveals the beautifully thick printed pages. The print is bright clear and beautifully detailed. Comparing the printed page against the preview images from the Saal Design software shows that there is no discernible difference in colours. Obviously this is very much reliant upon the fact that you have an accurately calibrated monitor!
Turning through the pages you will be struck by what I think is one of this photo books standout features – the lay-flat binding.  This excellent feature allows images to be placed across the centre binding which allows huge flexibility in page designs.  Even though my portfolio features a very simple, contemporary layout, the lay-flat pages allow stunning full width spreads to be created.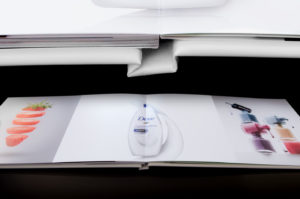 There are a number of additional options that I cannot comment on as I did not choose them for my portfolio, but given the high quality of my example I'm fully confident that they will be of an equally high quality.
To give you a feel for the overall look and quality of the product take a look at the overview video below. Obviously, as this is my product photography portfolio it contains my own product photography and still life images. You can see more examples of my product photography or still life images on the rest of this website!
Final thoughts
So, as a photography portfolio does the Saal Digital photo book deliver the goods? In short, I have to say, most definitely yes!
I am seriously impressed with pretty much every aspect of the Saal Digital photo book. There are a huge number of options available to allow you to personalize it and match your branding. The design and ordering process is slick and efficient and production times are small. Most importantly, for a photography portfolio, the print quality is excellent!
Having only just received this example, I've not had the opportunity to take this to a client meeting yet. However, I'm thrilled with my portfolio and am very sure that it will receive a favourable response!
It was a complete coincidence that, whilst looking for photo book manufacturers that I came across and advertisement on Instagram in which I was offered a discounted purchase price in exchange for an open and honest review photo book review. For complete transparency, I received £40 toward the cost of this photo book from Saal and I payed the remaining £20 myself. Â I am in no way otherwise linked or affiliated to Saal Digital and have provided this full, open and honest photo book review without bias.
I'd love to hear if you have any comments relating to either the Saal digital photo book or this photo book review – so feel free to comment below!
I am regularly active on social media, so if you use any of the following platforms check out my profile and follow on Instagram, LinkedIn, Behance or 500px to keep up with our latest work!